OUR JOURNEYS
Memorial story
Sarah Mary Peek
by Michelle and Dave Peek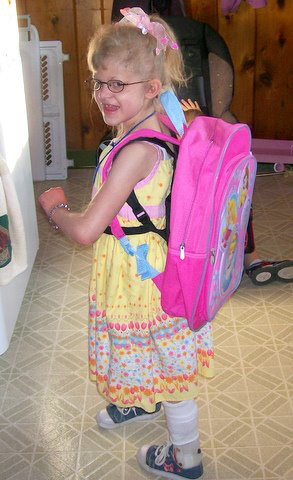 "Accomplishing my biggest dream to go to school!"
From the moment she was born, we knew Sarah would change our lives forever. As first-time parents, we were not prepared for the rollercoaster ride we were about to embark on. At birth Sarah survived a severe brain bleed and rash of seizures, from which we were told she'd die or face severe mental retardation. This left her with mild cerebral palsy, eventually requiring her to wear specially fitted braces to walk. In addition, a detached retina caused her to lose vision in her right eye.
The first two years of her life were booked with appointments to specialists and visits from therapists. Even after this, some medical issues were never diagnosed or fully understood by the medical community. She also experienced major reactions to some of her early medical treatments. These early years had already left us feeling very protective of Sarah and constantly nervous for her safety.
But Sarah, on the other hand, was already easing our worries. It amazed us that she showed no sign of mental delay whatsoever. Quite the opposite really! She just had some physical delays.
She adapted to the vision loss well and lovingly called her AFO braces her "walking boots." She wasn't on the growth chart at all; she was actually well below it. But she created and followed her own curve just fine.
We finally began to relax and enjoy our little girl as we watched her personality and determination completely overshadow any of her disabilities. Soon we felt comfortable enough to handle a new addition to our family, and Sarah welcomed her little brother Nathan into the world when she was 2 years old.
But before long, we had new nagging feelings that something else was wrong with Sarah. She was very pale compared to her new baby brother. Her feet, lips and fingers occasionally turned a bluish color. She woke at regular times every night and followed a playful but peculiar-looking routine before going back to sleep.
Just before her 3rd birthday, at a routine appointment, I brought in some pictures of her blue feet. I described the signs of sleep apnea which Sarah was exhibiting. She had a history of sleep apnea through her stay in the NICU. We were not given a monitor when we first brought her home from the NICU.
I recapped her medical history with the doctor. I shared my pictures and anecdotal evidence. I expressed my concern that Sarah may have an additional heart or lung problem, and then I made a simple request. I wanted Sarah to be sent to a cardiologist.
 
I was assured her heart was fine and my request was unwarranted. They wanted to schedule her with a rheumatologist instead. She never made it to that appointment because, two days later, she collapsed in our front yard.
Well, there we were at the cardiologist's office the day after Sarah collapsed. They performed an echocardiogram followed by an EKG and then delivered a diagnosis of pulmonary hypertension. Then a heart catheterization was performed and the results were devastating.
We were told that Sarah was already in the end stages of the disease, and they gave her six months at the most. This began our frantic search to find some kind of hope! And we were quick to find that hope through the Pulmonary Hypertension Association (PHA). Through their resources we were able to get in contact with Dr. Erika Berman Rosenzweig at NY Columbia Presbyterian. But the treatment would be another big life change.
Suddenly we were learning an entirely new set of life skills. We learned how to prepare Sarah's IV medicine (Flolan), care for and dress her new central line, and know how to run the pump delivering her medicine. It was such a huge responsibility.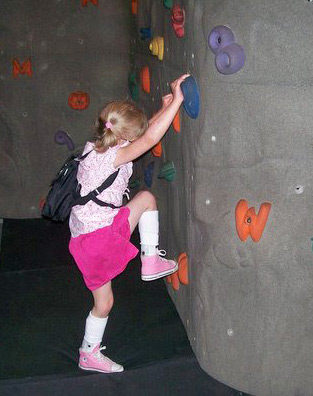 "Never give up, reach high and dream big!"
When we returned home (Syracuse, N.Y.) we would be the only people who knew of her disease and how to administer her medicine. There would be no local doctor, surgeon, pharmacist or nurse who had our training or the knowledge to help. It felt like one false move would make us responsible for our daughter's death.
We wanted to shut her in a big plastic bubble and keep her safe from anything that could cause her to get sick or threaten her pump and central line. To top it off, our suspicions of sleep apnea were confirmed. This required Sarah to have oxygen at night and a pulse oximeter for monitoring. Throw in the Digoxin and Lasix prescriptions and I wanted to just crawl into the fetal position.
My husband Dave and I were trying to make sense of why things had to keep happening to our poor little girl. But not Sarah. She accepted everything thrown at her with such grace and strength that it humbled us. So I have a tube coming out of my chest? So I need to wear a pump? Have dressing changes? I can't swim anymore? Wear a cannula at night? No biggie!
She just wanted to live every moment to its fullest. But we would have a hard time letting her at first. One of the first things that was hard for us was going to the NY State Fair for the first time. It's only 10 minutes from us, and Sarah and Nathan really wanted to go. Sarah had just turned 5 and Nathan was 3. We hadn't done much for two years after diagnosis except for trips to grandparents only 15 minutes away, maybe the mall or zoo. We stayed close to home. We had all her emergency supplies in a luggage bag on wheels we took everywhere we went. We waited for a day that wasn't too hot or sunny. Ok, we can do this!
We took them through exhibits to see animals, butter sculptures and trains. It was going pretty well until we came upon the kiddie rides. She wanted to ride them with Nathan. We read the sign, "Do not ride if you have a heart condition." The right side of her heart was enlarged from her PH; could it handle even these little kid rides? Would she have an arrhythmia? What if her pump started to alarm while she was on?
Her life became fairly boring after PH entered our lives. Mostly staying home playing with her brother and getting visits from various therapists for her cerebral palsy. Excitement was our five-hour road trips twice a year to her PH doctor.
We looked at each other and then Sarah. She already had been through so much in her short life. Didn't we want however much time she had left on this earth to be happy and fun?
That was the beginning of our letting go. We agreed that her life may be shorter than the rest of ours, but it was going to be full!
We watched as she climbed in the kiddie rollercoaster with her brother, smiling the biggest smile! She knew to alert us if she heard her pump alarming. We held our breath as they took off. The joy and elation on her face each time they made a pass was wonderful!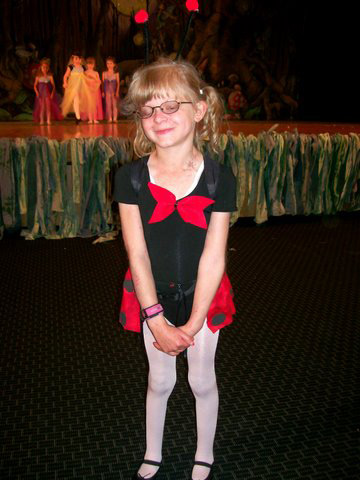 "Accomplishing my dream to dance on stage!"
Next was ballet. She could go without her AFO braces here and there, but she walked awkwardly. She wanted to be in a dance recital ever since she was 2 and saw her young Aunt Emily, who was 6 at that time, on stage. I found a place that was more laid back and all about the kids just having fun, not becoming prima ballerinas. I wanted to be in the room watching. (What if she fell? Her line could get pulled, the kids could pick on her, she may get too tired! They could give her a bad cold and she could end up in the hospital!)
No, I'll be right outside if needed. The kids were given an explanation of her illness and pump; she needs to feel some sense of independence. Ugh, this is hard!
As I sat in the waiting area with the other mothers, clutching her emergency bag, I watched her scamper off to class with her new friends so excited. When she emerged from class beaming with happiness, my anxiety started to melt away. Her happiness was more important. And she fulfilled her wish to be on stage twice!
That year we were trying to figure out our next big step - kindergarten! She wanted to go to school more than anything, and ride a school bus. This was more difficult than we ever thought. My husband Dave, my mom and I were the only people in Syracuse who could mix her Flolan, change her line and dressing and know what to do in a PH emergency. I was not allowed to go to school with her since I wasn't a real nurse (though I felt like one!). The journey to find her a nurse would take us another year. We needed someone we trusted with Sarah's life, someone that would be like another member of our family.
We found that in Tina. She started training with Accredo to learn about PH and Flolan and all that comes with it. We spent a lot of time together before school started, and right after Sarah turned 6, the day finally came. This had become her biggest dream. She had watched the school buses go by from our livingroom window for at least three years now. "When will I get to ride the school bus and go to school?" It almost didn't happen. I thought of homeschooling for a long time. I couldn't bear the thought of her being out of my sight for that long, and all the germs!
But she wanted this more than anything, and here it was.
I thought she would jump out of her skin that morning she was so excited. I thought I would want to upchuck that morning or be sick with worry all day long. But the utter joy on her face as she climbed the stairs of the bus and turned to wave goodbye took it all away.
Dave and I felt so happy for her, it overshadowed any fear.
Her nurse Tina would go on the bus with her and be with her at school in case a problem arose. Sarah made it very clear to Tina, though, that she had to sit in another seat on the bus and give her some space!
Sarah made a ton of new friends and they all wanted to learn about her pump and backpack. The teacher made a big stop sign to put on the back of it to remind kids not to touch it. Sarah thought that was so cool!
Her friends all wore purple on a special day in November to help with PH awareness month; Sarah felt so special. She also won the heart of one of our local news anchors . He did two awareness news stories with her - one from our house when she was 5 and the other from her school when she was 6. She loved to be on TV!
And so the next couple years were filled with invites to birthday parties, school functions, ballet classes and class field trips. Her boring, sheltered life at home gave way to meeting many new people and friends and living life to the fullest. She was very popular at school and the smartest in her class. She loved everything about school and made her teachers and us so proud.
She told her music teacher that year in kindergarten that she too wanted to be a music teacher when she grew up. Even though she knew her PH could take her any time, it didn't stop her from having dreams and plans for the future.
When she started 1st grade, she was even more excited than the year before! Now her brother Nathan would have her kindergarten teacher from last year and they would ride the bus together. She would get sick a few times that fall, when she didn't at all the year before. All she cared about was feeling better and going back to school.
The end of that November 2009 her central line broke. It was the first time in four years that happened. She had never even had a line infection in that line. We were off to NY Presbyterian for a new one, and the only thing on her mind was getting back to school. All her friends sent her get well cards and she loved it!
She would get another bad bug that February break 2010 that would last through the next week also. When Monday, March 1, came around, she finally didn't have a fever anymore and said she wanted to go to school. She still seemed weak but begged me to go back. She had missed two weeks and was miserable about it.
She pushed through those first two days ok but started to have little nose bleeds. We were only a few weeks away from going for her annual heart catherization. I talked with the nurse at her PH doctor's office a few times over the course of her illness. We were thinking of moving up her appointment.
The next day was March 3, 2010. She was so excited about Wacky Waffle Wednesday at school. Her nurse Tina called me a couple times from school about her nose bleeds and weakness. They were heading to gym class (one of Sarah's favorites), and Tina had told her she couldn't join in today. Sarah had given her the lip and was so upset about this that Tina made a deal with her. She could join in, but one more nose bleed and she would call me back to come pick them up and call the doctor again.
Sarah was elated and ran to join her friends. They were playing games and having a blast when Sarah slowly dropped to her knees and fell over. I was called immediately and raced to the school. She looked very peaceful lying in her principal's arms. She slipped away as I walked with her to get in the ambulance. They tried to resuscitate her all the way to the hospital and until Dave arrived, but I knew it was no use.
In the days that followed, I beat myself up for what I should or shouldn't have done. Cursed myself for letting her do too much. She would be fine if she had just stayed home. Nonsense!
The hundreds of people she touched in her 7 1/2 years was amazing to us. The children who told us what an inspiration she was to them made us so proud.
I was looking at pictures and came across all the things we let her do that had been worrisome to us. In every single one, she wasn't just smiling a rehearsed smile but was in a moment of pure joy. Losing her was the most devastating thing in the world to us. But looking back and not having to regret holding her back because of her illness gives us happiness. We would have been thinking of all the things she had wanted to do and we didn't let her. That would have been unbearable.
I came to realize she would have passed away that day whether she was home, at school or anywhere else. But she was in one of her most favorite places, doing one of her most favorite things, surrounded by people who loved her. If it was going to happen, that was the way it should be.
Now we think back to some of the dreams that she had. Dancing on stage, going to school and riding the bus, having a best friend, riding on rides at the fair…. She did them all, and that puts a smile on our faces and peace in our hearts.

Michelle and Dave Peek: proud PH parents of Sarah Mary Peek  7/14/02-3/3/10